Hip Hop Beat Maker Review
Sign Up To Newsletter and get FREE 40 Minute Training Video

No Spam Policy: We will not sell or distribute your info
Newsletter FAQ | Cancel Newsletter Any Time
Hip Hop Beat Maker Review
By Allen Brown
The Beat Thang has come a long way over the last four years. It has grown to be a widely used beat maker software by many in the hip hop beat industry. This is only a brief review of this Hip Hop Beat Maker. For more details, you can visit Beat Thang Website.
First thing you should know is that the BTV is very simple to use and can be downloaded into your Mac or PC. The BTVSOLO is the starter level that can be used by anyone that is just getting started in the hip hop beat game. It Comes with 1000 pre made sounds that will be more than enough to get you banging out beats right after you download the Virtual beat maker. If you have sounds of your own, you can easily import them into the BTV.
The design of this production software is pretty simple but lacks a steps sequencer. However, it makes up for it with the ease of use and the simple method it uses to record your tracks. Which it offers 16 tracks out the box to lay your instruments the way you would like them. You also have 8 banks that increase or decrease by the octave for all of your sounds. Its like having an 64 key keyboard when working with the BTV. The BTV has a built in mixer for you to mix your beats the way you like them before you export them in wav file format. You can create patterns or create songs and export them into any recording program, computer or zip file.
Now with out talking to much about the basic features of the BTV, I'm basically writing here to give my simple opinion about the beat thang and should you buy it. Well although I have the Beat Thang Hardware version, and have my opinion about that unit, I would say that it is safe to make an investment into the BTV version of the Beat Thang Hip hop beat Maker. For one, It's affordable and will not set you back as far as money is concerned. Currently as of this review, it is $39.95 for the entry level BTV. I believe even though there are many products out there that are better than the BTV, for the money it is worth having to explore your creative side and see what you can come up with. You will be surprised at how easy it is to make beats and how simple it is to learn.
Go ahead and give the BTV a try and see what type of beats you can come up with and even sell to make your money back selling beats online.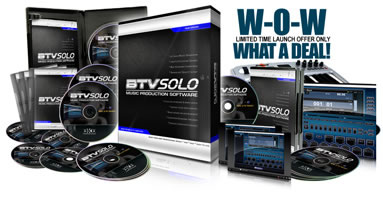 Follow this link now and get the free information you need to get started - Beat Thang