About Allen Brown aka Fat Fingers
Allen Brown is the creator of sellmorebeats.com and other popular websites on the Internet that have been helping music producers make money for years. As an Internet Marketer, Allen has discovered that many music producers fail to make money online because of what they don't know. Allen has taking the steps to place years of information in the products he offers to help anyone who struggles with selling their beats online get the information needed to be successful.
Allen Brown aka Fat Fingers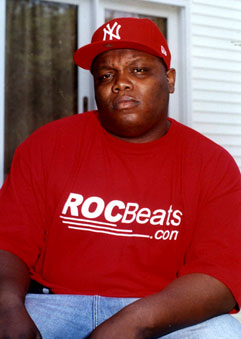 What's Up
It's Fat Fingers here
I wanted to take a minute and introduce myself, and the question you are probably asking: "Who is Fat Fingers?"
I'm actually a pretty cool guy, who decided one day to master the Internet and make money doing it.
I won't bore you with the details, but I didn't always make the money that I do now. At one point I was broke and struggling trying to figure it all out. One day I was talking to one of my best friends, and I said "I am going to figure this out for myself, no matter what it takes".
Well, it wasn't the easiest thing to just "figure it out". I spent years reading many books, listening to "motivational CD's ", going to seminars, and trying out a lot of crazy ideas before anything happen.
Finally one day after years of trial and era I finally started to gain some traction. My ideas where working and the money started to pour in. It's the greatest feeling in the world to work hard and then be rewarded for your labor.
Through the years as I was getting better and making more money online, my friend greg started calling me a webmaster, a guru and an Internet marketing expert. In my own humble way, I would deny it every time and just say I do what I have to do. But now a days I have embraced the titles and just live up to them now. The feeling and the reward I get when others tell me how much money they are earning from taking my courses is priceless to me. If your reading this now, then I want to do the same thing for you. I believe my products will help you out in more ways than one.
Take a moment and review my entire website and grab all of my free offers and information to help you out. When you start to see the results of the free things I offer, I want you to invest in the powerful courses that I offer. One thing is for sure, they all provide life changing information that will improve your results one way or another.
Before you Invest in any of my products, I want you to know that I stand behind everything I offer with a 60 day money back guarantee. This means you have 60 days to try them out before its yours.
If you don't get results IMMEDIATELY, then simply send for a no questions ask refund.
Only after you've seen that the information I offer is REAL... do I want you to believe in me or my products.
I'm a real person, and as a person I have my flaws. But I also think my programs are the best in the world, and I stand behind them 100%. I honestly hope you get a TON of value from them, and I believe that you will.
Allen Brown aka Fat Fingers